We've  started our holiday baking with a few of our favourites from mouth watering shortbread to chocolate fudge. At Serenity Lavender we're always experimenting and adding lavender to different recipes to see how our favourite herb accents a recipe.  Like anything in life,  we've had some huge successes and then some less than stellar results.  Over the next several weeks on Sundays we'll be sharing some of our recipes that have been great hits and sure fire crowd pleasers.  Today we thought we'd start with a classic – Lavender Shortbread! Buttery crisps  with a hint of floral and citrus notes that turns this old family recipe into something spectacular!!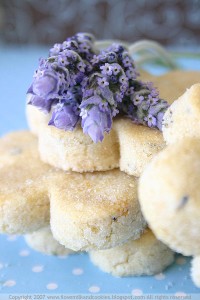 Servings: 5 dozen cookies
Ingredients
1 lb unsalted butter, softened
1 cup icing sugar
2 teaspoons Serenity Lavender culinary lavender (ground)
2¼ cups all-purpose flour
½ cup rice flour
½ teaspoon salt
Preparation
Preheat oven to 325°F.
Cover bottoms of two baking sheets with parchment paper. In a large bowl, cream together the butter, sugar, lavender with an electric mixer. Mix until light and fluffy, about 3 minutes. Add all purpose flour, rice flour and salt and beat until incorporated. Divide dough in half. Flatten into squares and wrap in plastic. Chill until firm. On a floured board, roll each square to a thickness of 3/8 inch. Cut with cookie cutters and place onto baking sheets, spacing cookies about 1 inch apart.  Bake 15 to 20 minutes or until pale golden around the edges. Cool then transfer to a rack. Sprinkle with powdered sugar.
Store in an air tight container.
Photo from ilovemilkandcookies.blogspot.ca