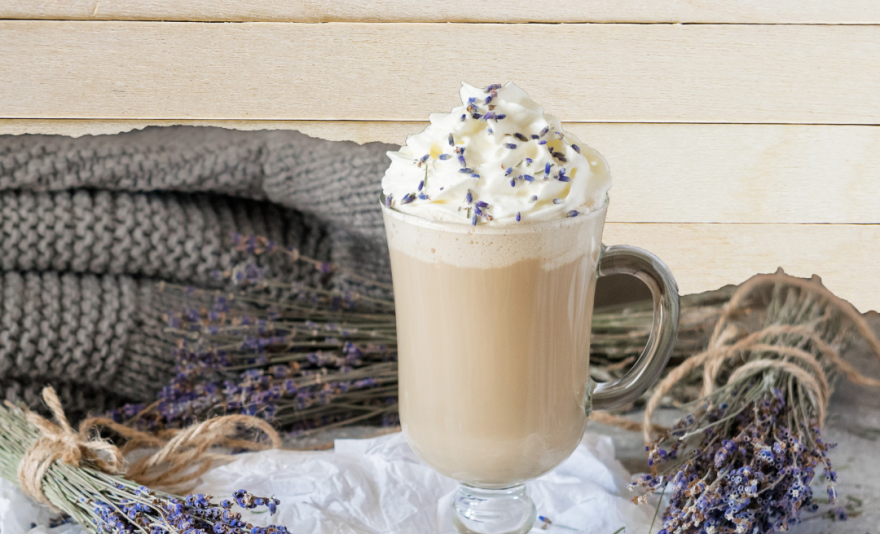 Starting this chilly morning off with a Lavender Latte using lavender syrup that we've made ahead of time.  Lavender and mocha are heavenly together.  This latte is perfect for a day that you need to treat yourself to a relaxing morning.  This easy recipe is  uses calming lavender to make a homemade syrup and topped with a frothy cream.  You can always substitute your favourite oat milk or almond milk.
The key to cooking and baking with lavender is to use a good quality culinary lavender. There are many varietals of lavender and each has its own unique aroma and flavour.   Our favorites are coconut ice which has a light spearmint and tropical notes or hidcote which has a beautiful colour, especially making lavender syrup and a citrus flavour that highlights its floral notes.
How to make your latte
Brew your favourite coffee or espresso.
In a separate saucepan heat 1/4 cup of whole milk or other milk substitute.
Pour 1 cup of coffee or 2 shots of espresso into desired mug.
Add 1-2 tablespoons of lavender simple syrup and stir. Top with steamed milk and froth, Then top with whipped cream and sprinkle dried lavender…and Voila!
Lavender Simple Syrup Recipe
In a medium saucepan add the water and sugar. Stir over low heat until the sugar is dissolved. Bring the mixture to a boil. Stir in the lavender. Remove from heat and let steep for 10 minutes. Using a fine mesh sieve, strain out the lavender. Let the syrup cool to room temperature.
You can store the syrup in the fridge for up to a month- it's terrific on berries, in a salad dressing or in your favourite cocktail!