Discovery Series #chocolate Hand Made Truffles Workshop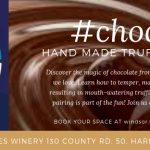 Learn all about chocolate in our after-work chocolate truffle demonstration.
Under the guidance of our owner and microbiologist, Martin Gorski, and our Executive Chef, Steven Straiko, you'll discover the origins of chocolate, how it is grown, and the process that turns this humble fruit into the chocolate we love. By the end of the demonstration you'll understand the technique of tempering, preparing a basic ganache and how to hand roll and scoop ganache. You'll learn about wine and chocolate pairing with an actual tasting, and each participant will receive a recipe and samples of truffles to take home.
Make an entire evening of the event and book your table for dinner at our own Bistro 42. Reservations can be made by calling us at 519-738-6111.
Trackback from your site.