#beeswax Candle and Ornament Making Workshop
Welcome to candle making with Serenity Lavender Farm, located onsite at North 42 Degrees Estate Winery. Get inspired and create a pure, sweet smelling light from all-natural beeswax gleaned from our own hives. Learn how to make three different types of beautiful beeswax candles, including: a tea light, a rolled beeswax sheet candle and a jarred candle. You will also make two ornaments: a dipped pine cone and molded snowflake, which you will learn to paint. So many good stocking stuffer ideas!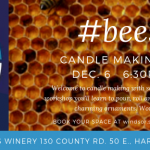 Trackback from your site.