Serenity Lavender Shop Holiday Open House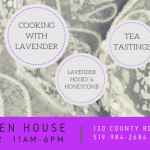 We've Decked our Halls with Christmas Cheer. Come experience the spirit of the Holiday season at Serenity Lavender! Our Holiday Open House is next weekend so save the date! Come taste our holiday teas and Christmas sweets. Learn how to cook with lavender and take home some of our favourite recipes, And be sure to check out our new men's line and other great seasonal products! Hourly draws and lots of holiday cheer! We'd love to see you!
December 1st & 2nd
11am-6pm
Trackback from your site.