Discovery Series #foodporn The Art of Food Presentation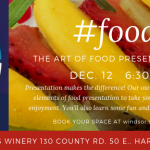 Presentation, any chef will tell you, is vital to every finished dish. Open your nearest cookbook. Turn on the Food Channel. All the dishes have something in common; beautiful, well-presented dishes.
Our Chef Shawn will teach you the art of plating and presentation. He will teach you the rules to food presentation, garnish and techniques to plate the perfect dish and make your table shine. You will learn exciting new techniques such as: foam, spherification, carving and the use of smoke.
What to expect: Heaps of concepts to impress your guests and make any of your dishes look as beautiful as they taste. Learn how to set your table, fold napkins and make the use of height for that "Wow!" factor.
Dinner is available prior to the workshop. Reserve a table in our Bistro 42 by calling 519-738-6111.
Trackback from your site.