Avocado Lavender Dip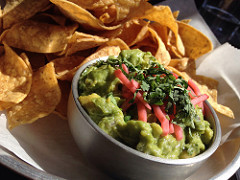 Last minute preparations for Super Bowl Sunday and of course I had to include lavender in something. So here's my a quick creation:
2 ripe firm avocados mashed
1/4 cup sour cream
1 tsp sea salt
1 tsp Serenity culinary lavender crushed with a mortar and pestle
1 small Leamington greenhouse tomato chopped
1/8 cup black bean and corn salsa
1 tsp lemon juice
1/2 small onion
pinch of ground pepper
dash of hot sauce ( I used our homemade habenaro paste made from our garden grown peppers but use whatever you like)
Mix together and serve with nachos.
Trackback from your site.