A perfect pairing for a cup of Lavender tea – Lavender Lemon tea cookies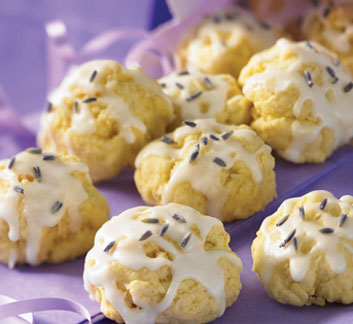 Here's a nice easy recipe for Lavender Lemon tea cookies that we've adapted from Dietitians of Canada, COOK!  A tea time favourite- oooh so pretty too! They are a perfect pairing with a cup of Serenity Lavender's Lavender Earl Grey tea on a cold winter's day or just a nice treat to chase away the winter blues.
Ingredients:
2 cups all-purpose flour
1/4 cup Serenity Lavender's lavender sugar
1 tbsp baking powder
1/3 cup non-hydrogenated margarine
1 large egg beaten
1/2 cup 2% milk
2 tsp lemon extract
Frosting:
1 cup icing sugar
2 1/2 – 3 tbsp 2% milk
2 tsp non-hydrogenated margarine
1 tsp lemon extract
Instructions:
Preheat oven to 325°F (160°C)
In a large bowl, combine flour, lavender sugar and baking powder. Using a pastry blender or two knives, cut in margarine until mixture resembles coarse crumbs.
In a small bowl, whisk together egg, milk and lemon extract. Pour over flour mixture and stir just until a stiff dough forms (do not over mix).
Drop 1 tablespoonful (15 mL) about 2 inches (5 cm) apart on prepared baking sheets. Bake in preheated oven for 8 to 10 minutes or until bottoms are golden. Transfer to a wire rack and let cool completely.
Frosting:
In small bowl, combine icing sugar, milk, margarine and lemon extract to form a smooth, thin frosting.
Drizzle frosting over cooled cookies and top with Serenity Lavender's Culinary lavender buds.
Makes about 30 cookies
Excerpted from Dietitians of Canada, COOK! by Mary Sue Waisman, photos by Colin Erricson © 2011 Robert Rose Inc. 
Trackback from your site.