Asparagus with Lavender, Pine Nuts and Parmesan
It's asparagus season in Essex County and how could I resist sharing this delicious recipe.  It's elegant and simple with of course a touch of lavender.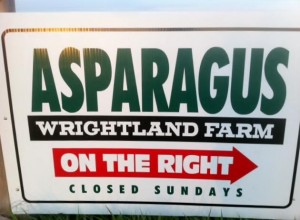 Ingredients:
2 pounds of pencil thin asparagus
1/8 cup extra virgin olive oil
1/4 Teaspoon crushed hot pepper flakes
2 cloves of garlic, minced
1 teaspoon, ground Serenity culinary lavender
1/2 teaspoon sea salt
1/8 teaspoon freshly ground black pepper
1/2 cup of grated parmesan cheese
1 Tablespoon grated lemon zest
1 Tablespoon fresh squeezed lemon juice
Method:
Clean the asparagus and tim off the tough ends.  Cook in boiling water for 3 minutes.  Drain and cover with cold water to stop the cooking.  Drain and pat dry.
Warm the olive oil in a  large skillet over medium heat.  Add the pepper flakes and garlic, stir and cook for 1 minute.  Add pine nuts and saute until the nuts turn a light golden brown.  Add the asparagus and lavender cook for an additional 3 minutes, until just heated through.  Season with salt and pepper.
Remove from pan and place onto a serving platter.  Top with parmesan allowing the heat to melt the cheese. Sprinkle with lemon zest and drizzle with lemon juice.
A perfect side dish or lunch. Serve with Sauvignon blanc wine.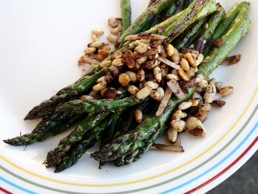 Photo courtesy of Culinate.com
Trackback from your site.