Cream of Lavender Potato and Leek Soup
A terrific way to warm up on such a frosty January day!
Ingredients: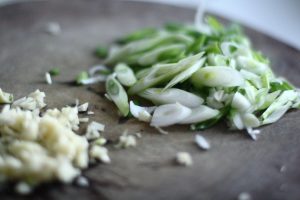 4 slices bacon
3 cups leeks, white part only
1 clove garlic, minced
6 cups Yukon gold potatoes, peeled and diced
6 C. vegetable or chicken stock
1/2 C. heavy cream
1 1/2 tsp. Serenity Lavender's Herbs de Provence
1/2 tsp. Serenity Lavender's Culinary Lavender, ground
Salt and pepper to taste
Instructions:
Fry the bacon until crisp in soup pot. Remove from pot and drain on paper towels. Reserve approximately 2 tsp of bac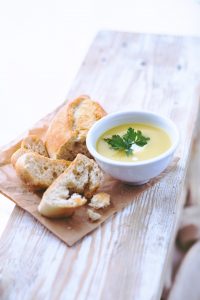 on fat. Chop and reserve. Wash the leeks well to remove any sand, chop and add to pot. Gently sauté over medium heat until leeks are very soft (about 7-10 minutes). Add garlic, potatoes and stock to leeks and simmer until potatoes are tender (about 20 minutes). Using a stick blender puree soup until smooth. Add cream, herbes de provence and lavender and whisk thoroughly over low heat until the soup is warm but not boiling. Garnish with bacon.
Season to taste with salt and pepper serve immediately.
Photo from Pxhere
Trackback from your site.