Lavender Lemonade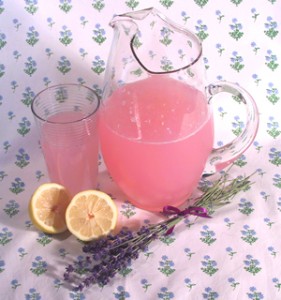 Ingredients:
– 1 cup sugar
– 1 tablespoon dried culinary lavender
– 1 cup freshly squeezed lemon juice, strained
– 5 cups water
– Ice cubes
– Lavender springs for garnish
Preparation:
Combine sugar with 2 ½ cups water in a medium pan. Bring to a boil over medium heat, stirring to dissolve the sugar . Add the lavender blooms to the sugar water, cover, and remove
from heat. Let stand at least 20 minutes. Strain mixture and discard lavender. Pour infusion into a glass pitcher. Add lemon juice and another 2 ½ cups water. Stir well. Pour into tall glasses
half-filled with ice or refrigerate until ready to use.
Trackback from your site.