Pumpkin Lavender Soup
At Serenity Lavender Farm we love this time of year. As winter sets in and days get cooler, its hard to imagine not having a delicious bowl of soup.  We've put a twist on an old time favourite- Enjoy!
Ingredients
1 Tbsp Serenity Lavender culinary lavender
1/4 cup water
3 cups chicken stock
3/4 tsp salt
2 cups pumpkin puree
1/2 c chopped onion
1/4 tsp chopped fresh thyme
1/2 clove garlic, minced
1/4 cup heavy whipping cream
1/2 tsp black peppercorns
 Instructions
Bring dried lavender blossoms and water to boiling. Remove from heat and allow mixture to steep 10 minutes. Strain liquid, discarding blossoms. Set lavender infusion aside.
In a saucepan combine chicken stock, onion, garlic, pumpkin, thyme. Bring to a boil.  Remove from heat, whisk in lavender insfusion and whip cream. Season with salt and ground peppercorns
Ladle soup into warm bowls. Garnish each with a spoonful of sour cream and, if desired, dried lavender.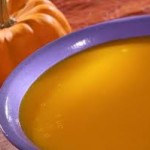 This recipe yields 4 servings.
Trackback from your site.