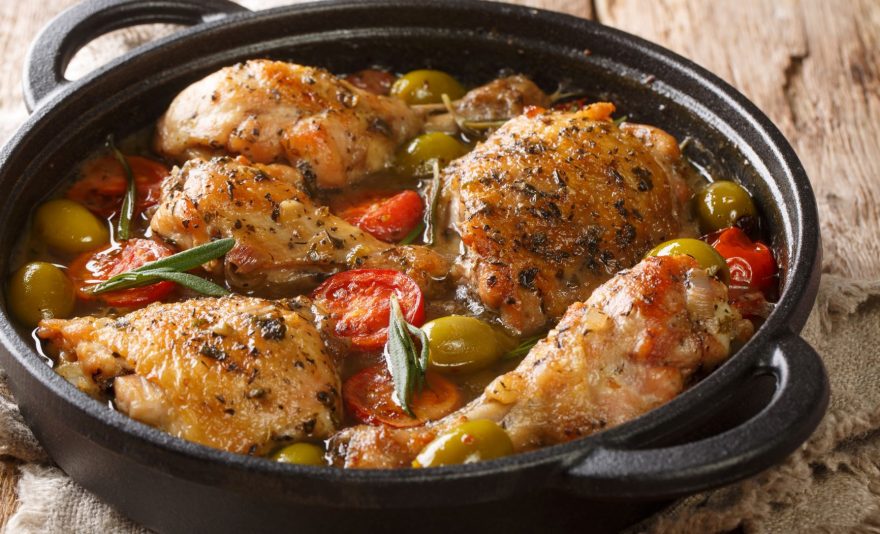 We've been longing to travel… but that won't be happening soon   So,  if we can't travel to Provence at least we can bring that idyllic wine and lavender oasis of France to our dinner table.  And what is more reminiscent of the beautiful region in France than herbes de Provence.
Obviously travelling vicariously is not quite the real thing but, it'll have to do and what better way to travel than through food.
This week it's a simple meal:  chicken,  dusted in flour and roasted with shallots, lemons, tomatoes, olives and garlic in a douse of dry red wine (I use the Pinot Noir from our sister company North 42 Degrees Estate Winery https://north42degrees.com/product/pinot-noir-2018-vqa/ ) and a sprinkle of  our own blend of herbes de Provence. https://serenitylavender.com/product/herbs-de-provence/   The chicken pieces crisp up on top, while the shallots and garlic melt into sweetness below. You could serve with rice, mashed potatoes or a simple green salad and a crispy fresh baguette to mop up the sauce.
8 bone-in, skin-on chicken thighs and/or drumsticks 

2

 

teaspoons kosher salt

1

 

teaspoon freshly ground black pepper

½ to ¾

 

cup all-purpose flour

3

 

tablespoons olive oil

2

 

tablespoons Serenity Lavender herbes de Provence

1

 

lemon, quartered

8

cloves garlic, peeled

6 me

dium-size shallots, peeled and halved

1 pint/2 cups of  cherry tomatoes

1/2 cup pitted green olives

⅓

 

cup dry red Wine

4

 

sprigs of thyme, for serving
Method
Pre-heat oven to 400 degrees.

Rinse the chicken and pat dry with a paper towel to remove any excess moisture; this will ensure the skin gets nice and crispy

Season the chicken with salt and pepper. Put the flour in a shallow pan or plate, and lightly dredge the chicken in it, shaking the pieces to remove excess flour.

On the stove top in an oven proof skillet heat the olive oil and place the floured dredged chicken skin side down until crispy and golden brown about 6-7 minutes.  Turn the chicken over and cook the other side for about 6-7 minutes.  Sprinkle the chicken with the herbes de Provence.

Arrange the lemon, garlic cloves, tomatoes and shallots around the chicken, then add the dry red wine to the pan.

Put the pan in the oven, and roast for 10-12 minutes, then baste it with the pan juices (do not skip this step). Continue roasting for another 20minu tes, or until the chicken is very crisp and the meat cooked through.

Serve in the pan or on a warmed platter, garnished with fresh thyme sprigs.
Serve with mashed potatoes, rice or crisp baguette.
Bon Appetit!