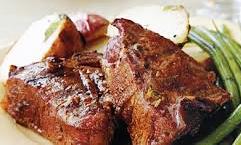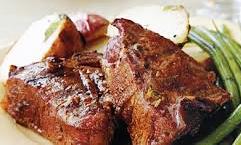 This time of year there is a lot of entertaining going on in our neighbourhood with house parties abound.  The food is just as diverse are our friends who are hosting these little soirees from wine and cheese  minglers to  the causal elegance of a sit down dinner.
If you are hosting a party this season we have a perfect recipe that gives a tender juicy lamb loin or rib chop a bit of zing in the flavour department using locally grown lavender. The aromatic rub of lavender and orange zest is an ideal flavour combination to make any cut of lamb a herbal fragrant note that is reminiscent of the southern coast of France.
Served with a lovely fall salad of arugula or other bitter greens and tossed with roasted hazelnuts and pomegranate seeds.  The pomegranate seeds are delightfully sweet and crunchy. The bright red colour and burst of flavour is one of our favourite additions to any salad this time of year, not just this one.
Ingredients
2 Tablespoons extra virgin olive oil
1 Tablespoon minced shallot
1 Tablespoon finely grated orange zest
1 teaspoon Serenity Lavender's dried culinary lavender buds
Pinch of sea salt
Pinch of freshly ground black peppercorns
8 double cut lamb chops (about 450 grams each)
Method
In a bowl, blend the olive oil with the shallot orange zest, lavender, salt and pepper.  Rub the mixture all over the lamb chops ad transfer them onto a broiling pan or metal rack set on a baking sheet.  Let the chops rest in the fridge for  2 -3 hours
Preheat the broiler and position a rack 8-10 inches from the heat. Broil the chops for about 20 minutes, turning occasionally until the temperature reads 140 degrees F.
Salad
Ingredients
1/8 cup extra virgin olive oil
3 Tablespoons of fresh lemon juice (about 1/2 a large lemon)
1 teaspoon finely grated fresh lemon zest
400 grams of arugula
1/2 cup of roasted hazelnuts, coarsely chopped
1/2 cup of pomegranate seeds
sea salt and freshly ground black pepper to taste
Method
Place the arugula in a large bowl.  Add the remainder of the ingredients into a small round covered plastic container.  Shake well until the oil and lemon juice are blended.  Pour over the lettuce, toss and serve with the lamb chops.
Enjoy!