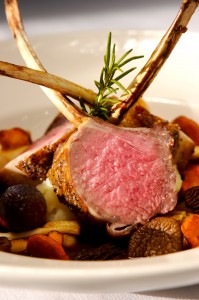 Impress your guests with this beautiful pistachio crusted roast rack of lamb using Serenity's Herbes de Provence and Culinary Lavender.  Sweet, nutty pistachios are added to a traditional Dijon mustard crust, which gives the lamb a great flavor and texture.
Makes 4 Portions Pistachio Crusted Roast Rack of Lamb
Prep Time: 30 minutes
Cook Time: 25 minutes
Total Time: 55 minutes  
Ingredients:
2 fully trimmed racks of lamb (just under 1 1/2 pounds each)
1 teaspoon Serenity Lavender's Herbes de Provence, or dried Italian herb blend
salt and fresh ground black pepper to taste
1 tbsp vegetable oil
3 tbsp Dijon mustard
For the crust:
2/3 cup finely chopped roasted pistachios
2 tablespoon plain bread crumbs
1/2 teaspoon Serenity Lavender's Culinary Lavender  finely chopped
2 tablespoons honey
1 teaspoon olive oil
pinch of salt and fresh ground black pepper
Preparation:
Preheat oven to 400 degrees F.
Season the lamb very generously with the fresh black pepper and salt to taste. Sprinkle over and press in the dried herbs. Heat the vegetable oil in a large skillet, and brown the lamb racks on both sides for a few minutes over high heat. Remove to a roasting pan and reserve.
Use a brush or spoon to spread the Dijon mustard over the surfaces of the lamb. Spread some on the sides and ends, but most should remain on the top surface.
Combine the crust ingredients in a small mixing bowl. Divide between the 2 racks of lamb, and sprinkle over to cover the mustard-spread surface. Once evenly distributed, press gently with your fingers to makes sure it's adhering to the mustard.
Place in the preheated oven and cook for 25 minutes, or until the internal temp is 125-130 degrees F, for medium-rare. Remove and let rest 10 minutes before slicing between the bones and serving. Garnish with a sprig of Lavender!