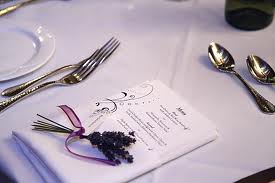 We had to share this with wedding season around the corner. Don't forget that Serenity Lavender has lots of purple bonbonniere ideas for brides at reasonable prices.
by Cara Davis
Economic woes continue to play a part in today's weddings. Couples are opting for smaller weddings and choosing to spend their money more wisely. According to a recent study from TheWeddingReport.com, brides and grooms are paying for more of the wedding bill themselves (to the tune of $10,000 – $20,000 US), and they're having more fun with it.
The report concluded that more couples are moving away from formal and traditional weddings to fun, romantic, simple, casual and unique weddings with a touch of formality and tradition.
Here are some more trends forecasted for 2012:
1. It's a Small World
Couples are keeping a tight rein on guest numbers (under 150), as the overall cost of the wedding is directly affected by how many heads are in attendance.
2. Autumn Leads
While June is the reigning month for marriages, September is a close second and other months, including August and October are on the rise.
3. Rustic and Vintage Themes
Rustic themes and vintage touches continue to trend, including weddings held in barns and receptions at local farmer's markets.
4. DIY Reigns
Brides are discovering they can create many of their wedding favours and décor – flowers, invitations and even the cake.
5. Tech Love
Today's brides (96 per cent of them according to www.weddingwire.com) are planning, shopping and registering online and even incorporating technology into the wedding day itself. Online blogs are providing the inspiration brides are looking for to piece together their day.
6. Sweet Endings
Dessert buffets continue to take a bite out of receptions, with non-traditional choices like square mini-cakes and cupcake tiers or pies, macaroons, Whoopie Pies, cake pops, colour-coordinated candy and even ice cream sundae stations or a cookies and milk bar. The dessert choices reflect the whimsical, fun nature of today's weddings.
7. Colour Me Vibrant
Some of the biggest colors this year are purples and green as well as jewel tones, according to TheWeddingReport.com.
8. Casually Groomed
Much to the relief of grooms everywhere, tuxedo rentals are out and suits and casual wear are in. TheWeddingReport.com states demand for tuxedo rental is down 11 per cent over 2010 numbers.
9. Candid Cameras
Formal photos are out and candid shots are in that fit with the look and feel of the wedding day. Demand for photo booths continues to rise as a fun way to capture memories.
10. Non-traditional Gifts
Non-traditional gift registries like CardAvenue.com are popping up, allowing couples to register for gift cards according to their tastes and needs, as research shows that couples are waiting longer to get married (brides are 27 on average, grooms 29).
11. Close To Home
TheWeddingReport.com predicts destination weddings will decline or remain flat in 2012 as couples are sticking close to home for the wedding day. They're also choosing more outdoor and/or all-inclusive locations to simplify their weddings and save money.
12. Staying Put
Not only are couples staying close to home, they're opting to host the ceremony and reception in the same location – again, to save money and simplify.
Cara Davis is the author of Cheap Ways to Tie the Knot and a blogger for CheapWaysTo.com.