Our bees have been busy this year and we have once again we have lavender honey!
What's the buzz? A worker bee gathers in her entire life 0.8 gram (0.0288 ounce) of honey and it requires 556 worker bees  and a million flowers to gather a pound of honey.  Bees normally fly once around the world to gather enough nectar for that pound of honey but we make it a bit easier for them by placing our hives in our lavender production field. Still, that's a lot of flowers.
Raw honey has been used as a folk remedy throughout history. But those old wives tales are true and honey has a variety of health benefits and medical uses. It's chocked full of antioxidants, is heart healthy and tastes delicious too!
The bees arrived back on our property on June 7th and we have 8 hives this year.  The bees were very busy with 2 blooms this summer and our first batch of honey was extracted on July 21st.
Sooooo golden in colour and the delicate floral scent of lavender flows through this pleasant, well balanced and rounded honey.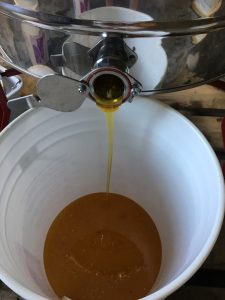 And we just stocked our shelves with some gorgeous honeycomb.  Eating honeycomb is one way to enjoy the full fruits of our bees' labour.  To produce one pound of wax the bees consume 6-8 lbs of honey.  The wax is edible and honeycomb contains not just honey but also pollen and sometimes royal jelly. It's the perfect addition to a bowl of oatmeal in the morning and you'll find it on our charcuterie boards at the Bistro 42.
We'll be saying goodbye to our bees soon as the evenings cool but we thought we'd share this old family recipe as our bee season winds down and they go into hibernation.
Polish Honey Spice Cookies (Pierniczki)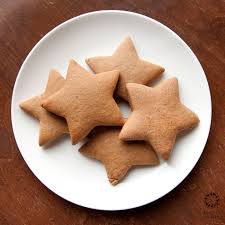 Ingredients
1 c sugar
¼ c  water
1 c honey
2 tsp allspice
1 tsp cinnamon
½ tsp cloves
½ tsp nutmeg
4 tsp butter
4 c flour
1 whole egg plus 1 egg yolk
2 tsp baking soda
1/3 cup warm water
Icing
1 c confectioner's sugar
1-2 Tbsp water depending on the thickness of the icing you want (glazed or piped)
½ teaspoon almond or peppermint extract
Preheat oven to 350 degrees.
In a saucepan measure out 2 Tbsp of sugar and ¼ cup of water stir until dissolved  and carmelize over gentle heat stirring until it begins to turn a golden brown colour.  Add the remaining sugar, honey, spices and butter.  Stir continuously until the mixture begins to boil.  Remove from the stovetop and set aside to cool.
In a large bowl beat the egg and mix in the flour, baking soda and water.  Blend in the sugar add spice mixture .  Knead the dough until smooth. Cover the  bowl with a towel and let it rest  20 minutes.
On a flour dusted countertop roll out the dough into a rectangle.  Cut the dough into shapes using your favourite cookie cutters and place on a parchment lined cookie sheet.  Bake 350 degrees for 8-10 minutes. Let cookies cool. Ice the cookies.
Smacznego!