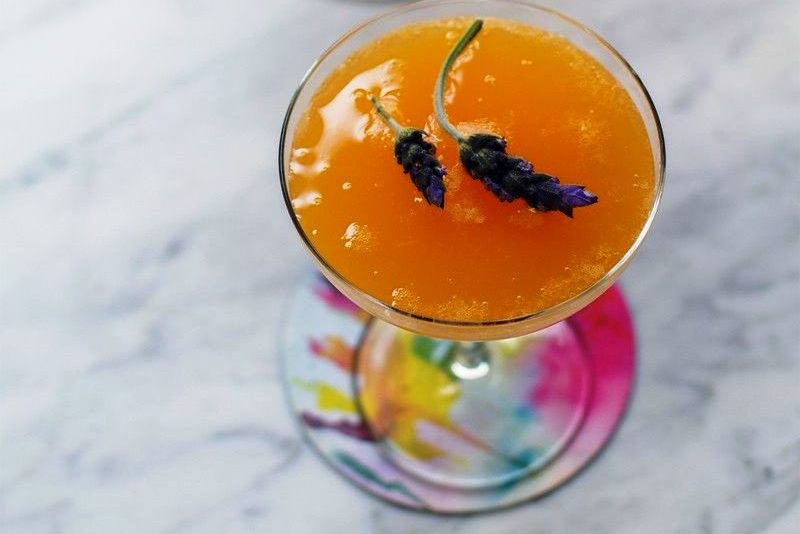 This time of year brings me back to my grandmother's orchard with its wonderful fruit selection – plums, pears, peaches, and apples.  My all time favourite were the wonderfully ripe peaches.  They were so fragrant and succulent that the juices ran all over with just one bite.  I can still smell the aromas just thinking about my childhood.
In days gone by we had many peach orchards in beautiful Essex County.  We even celebrated peaches in our little
town of Harrow with a festival and the crowning of the Peach Queen. The Harrow Research Station developed a number of peach varieties such as the Harrow Beauty and Harrow Diamond  Peach.  Today, you can still find fresh peaches at our neighbour's Leslie and Doug of the Fruit Wagon and Maria's on Ridge Road.
So today in celebration of the long weekend and fresh Essex County peaches I thought I'd share a lovely adult beverage recipe that incorporates my favourite herb- lavender and of course those luscious peaches.
Lavender Peach Bellini
Ingredients 
2 ripe large peaches, peeled, halved and stone removed
1/4 cup of sugar
1/4 cup of water
1 teaspoon Serenity Lavender's culinary lavender
750 ml bottle of North 42 Degrees Sparkling Sauvignon Blanc, chilled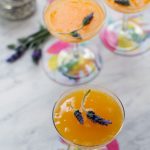 Fresh lavender sprigs to garnish
Method
Add water into a small pot.  Bring to a boil add sugar stir until completely dissolved.  Take off the heat and add 1 teaspoon of Serenity Lavender's culinary lavender.  Put the lid on the pot and steep for about 20 minutes.  Strain the lavender and put the lavender simple syrup mixture into the fridge until cooled completely.
Blend the peaches in a blender until smooth. Place 1 tablespoon of peach puree into a glass add 1 tablespoon of lavender simple syrup  and top with chilled sparkling wine.
Decorate each glass with a lavender sprig and serve straight away!
Cheers!!
Chefs Tip:
Use 1 parts puree to 4 parts sparkling wine. Good quality peach juice can be used as a substitute.
Serves 6