Lavender Crème Brulee
If you love crème brulee you must try this recipe.  The delicate floral flavor of lavender is heavenly!
Yiel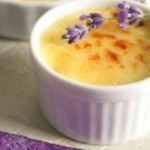 ds: 6 to 8 servings
Prep time: 20 min
Cook time: 60 min
Ingredients:
4 cups heavy cream
1 tablespoon Serenity Lavender's Culinary lavender
8 egg yolks
3/4 cup granulated sugar, divided
Preparation:
Preheat oven to 300 degrees.
In a large, heavy saucepan over medium heat, add cream and the lavender flowers; heat just to a simmer. Remove from heat and allow lavender flowers to infuse with the cream for 15 minutes. Strain cream mixture through a fine mesh strainer to remove lavender flowers.
In a large bowl, whisk together the egg yolks and 1/2 cup sugar until light and creamy. Slowly add the strained cream to the egg mixture, blending well. Divide custard mixture among the custard cups.
Arrange the custard cups in a oven proof roasting or baking pan.  Prepare water for the water bath by bringing enough water to a simmer. Carefully pour the hot water into the baking pan to come half-way up the sides of the custard cups.
Bake 60 minutes or until set around the edges but still loose in the center. The cooking time will depend largely on the size of the custard cups you are using, but begin checking at a half hour and check back regularly. When the center of the custard is just set, it will jiggle a little when shaken, that's when you can remove it from the oven.
Remove from oven and leave in the water bath until cooled. Remove cups from water bath and refrigerate at least 2 hours or up to 2 days.
When ready to serve, sprinkle approximately 2 teaspoons of remaining sugar over each crème brulee and using a small hand-held torch melt the sugar until a golden brown crust is formed.
Trackback from your site.