Roasted Pears with Blackberries, Ricotta, and Lavender Sugar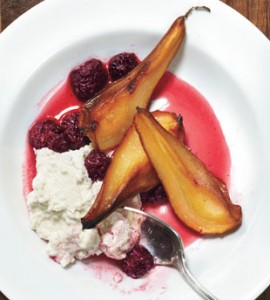 This recipe is from Bon Apetit. I combines the tannic and acidic flavours of the blackberries with the sweetness of the pears and creaminess of the ricotta for a tantalizing taste experience.
6 servings
• PREP TIME: 20 minutes
• TOTAL TIME: 1 hour 15 minutes
Recipe by Marlena Spieler
Photograph by Marcus Nilsson
Ingredients
•1/3cup + 2 teaspoons lavender sugar(available at Serenity Lavender online or in store or make your own using our culinary lavender)
•6 unpeeled pears (such as Bosc or Bartlett), quartered, cored
•2 tablespoons fresh lemon juice
•1 pint blackberries
•1 cup fresh ricotta cheese, crème fraîche, or vanilla ice cream
Preparation
Preheat oven to 425°F. Generously butter large rimmed baking sheet. Toss pears, lemon juice, and 3 tablespoons lavender sugar in large bowl. Transfer pears, 1 cut side down, to baking sheet. Roast 20 minutes. Turn pears, placing other cut side down. Sprinkle with 1 tablespoon lavender sugar; roast 20 minutes. Turn pears, skin side down. Preheat broiler. Sprinkle pears with 1 tablespoon lavender sugar. Broil until pears begin to caramelize, about 8 minutes. Arrange berries around pears; sprinkle with 1 tablespoon lavender sugar. Broil until berries begin to release juice, about 5 minutes.
Divide pears, berries, and juice among bowls. Top with dollop of ricotta and serve.
Trackback from your site.