Rosé Year Round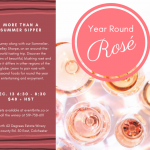 Journey along with our Sommelier, Shelley Sharpe, on an around-the-world tasting trip. Discover the origins of beautiful, blushing rosé and taste how it differs in other regions of the globe. Learn to pair rosé with seasonal foods for round the year entertaining and enjoyment.
Make an entire evening of the event by booking dinner in our Bistro 42 prior to the workshop. Call 519-738-6111 to make reservations. Dinner is not included with the cost of the workshop.
Tickets are $48 + HST
Available at eventbrite.ca
Trackback from your site.