The Art of Glüwein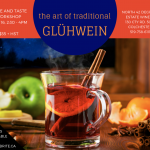 The wine! The spices! The aromatics! The tradition! There's good reason to be excited about Glüwein, the traditional cold weather drink of German-speaking nations. It's a glorious wine beverage made with an assemblage of tart citrus and exhilirating spices, served during the holiday season and after snow-skiing. We present our Glüwein workshop by the fire inside our winery, with instruction on how to make this must-have beverage. You'll learn how to make Glüwein from both red and white wines, as well as recipe and presentation tips. Of course, tastings are part of the fun! You'll head home with new skills and knowledge and your own spice packets for delighting your family and friends.
Make a day of it! Book a table at our Bistro 42 for lunch prior to the workshop, or stay for dinner afterward. If weather conditions are favourable, we may offer cross country skiing that day. Stay tuned! Skiing and dining are not included in the cost of the workshop.
$55 + HST
Tickets available at eventbrite.ca
Trackback from your site.