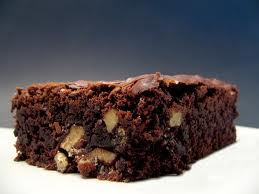 Chewy, chocolately with just the right amount of lavender. My family just loves these. When I make a batch they're gone before the next day. Truly yummyliscious!
Ingredients:
1 cup of sugar
1/2 cup of butter
2 eggs
1/2 cup of flour
1/3 cup of unsweetened cocoa powder
1/4 teaspoon baking powder
1/4 teaspoon sea salt
1 teaspoon dried culinary lavender
1/4 cup chocolate chips
1/4 cup walnuts (optional)
Cream the butter and sugar. Beat in eggs and mix until smooth. In a separate bowl sift together the flour, cocoa powder, baking powder. Add salt and lavender. Blend dry ingredients into the egg mixture. Mix in chocolate chips and walnuts. Pour into a greased 8×8 inch pan. Bake 25-30 minutes at 350 degrees or until a toothpick comes out clean. Top with your favourite chocolate frosting for an even more decadent experience!